Interactive 360-Degree Feedback Reports
Dynamic reports for PCs, tablets and mobile devices.
EchoSpan's Interactive Reporting features bring your employees' feedback reviews to life with animated graphs, drill-down analytics and built-in artificial intelligence. Feedback recipients will be able to quickly identify and act upon insights from their reviews with integration into the Development Planning Module. All reports are viewable on modern computers, tablets and mobile devices. Our Interactive Reporting tools are also designed to be flexible; project administrators can add, remove and modify components easily. All components work with more than 100 languages.
INTERACTIVE REPORTING FEATURES
Real-time report generation
Animated graphs and charts
Viewable on any device
Customize report content based on audience
Automatic integration with the Development Planning Module
Add or remove report components as desired
Personalize elements such as introductory text, page titles, graph formatting and more
Automatically flag highly positive or negative written feedback
Percentile and quartile scores*
Include norms and benchmarks based on real-time averages, static values or historical scores
Apply automated or custom language translations to report text elements*
Anonymous ratings and comments; group or filter results
Available in Professional and Enterprise Editions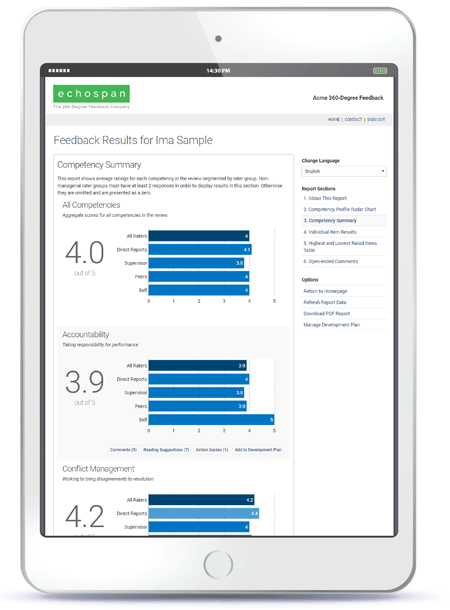 * Included with Enterprise Edition